baltiyskiy talisman hero of my dream
Kaninches size
Wild boar color wirehaired dachshund.
Chest: 32cm
Eyes tested PRA clear
DOB: 01.09.2016
BREEDER: Yulija Kuropatkina
OWNER: Kirsti Jahilo
2017 – within first 2 months Holmes ( Baltiyskiy Talisman Hero of My Dream) came to live with us, he became junior champion of Estonia, Latvia, Lithuania and Baltic countries, and got working test done for fox barrow. So proud of this little great mister.
EST JCH Estonian junior Champion
LTU JCH Lithuanian junior Champion
LVA JCH Latvijan junior Champion
BALTJCH Baltic junior Champion
CHJCH Chech junior Champion
OGRE JWinner17
ESTCH Estonian Champion
LTU CH Lithuanina Champion
TLNWCUP 19
TLNWinner19
TLNWinner20
LVA CH Latvijan Champion
BALT CH Baltic Champion
FIN CH- Finnish Champion
open pedigree at estonian kennel union
working tests
FT FOX III, Judge: Roman Peil
BT II grade: Judge: Aili Pärtel- Beljajev
PIKA- koe hyväksytty (pienoismäyräkoirien kayttötaipumuskoe) FINLAND
Videos starring Holmes
Picture gallery of Holmes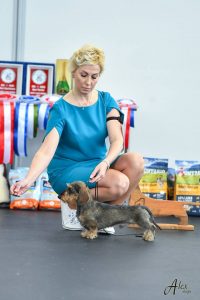 pictures of relatives in pedigree
INTCH, INTCH(FCI), BALTCH, BECH, BLRCH, EECH, EEJCH, HVCH, LTCH, LVCH, LVJCH, PLCH, RUSCH, SKVCH, SLOCH, FT-BL. TR. Kaninchen size
Multi BIS-BISS-BIG Winner, C.I.B.; C.I.E. WJW'2009, WUT WJW'2009, FCI Centenary Winner, WUT Ch. J Ch RUS, Ch RUS Finland, Norway, Austria, Hungary, Czech R, Belorus, Club Ch x 2, GRUS Ch, Club W x 4, "Eurasia" W x 4, "Russia" Winner x 2, Ch RKF x 6…
GUDWIL'S TERRIFIC TIMOTHY DALTON


INTCH, EURCH, HNCH, RKFCH, RUSCH, RUSJCH, UKRCH, FT-FOX/ Kaninchen size